We are now in December so I am sure you will forgive us for mentioning the word but Christmas is fast approaching and we are all getting a lot busier with planning and prepping! However you wish to spend the Winter months we wish you all the best for you and your family, and hope you have a wonderful time!
In this edition of our Winter Newsletter, we invite you to attend our next Autism Norfolk Forum where we will be focusing on Mental Health Service within Norfolk and listen to your views and concerns. After the success of our hybrid meeting in September, we are pleased to say we are offering the chance to be involved both in-person and virtually once again. We have also included other organisations who can help and tips around managing the festive period alongside some Autism-friendly events happening in Norfolk.
---
Autism Norfolk Forum
Due to concerns around raising infection rates across Norfolk, we are holding the next Autism Norfolk Forum Online only.
Mental Health Special
Date: 11th January 2022
Time: 11:30 – 13:30
Venue: Online Via Zoom
---
The All Party Parliamentary Group on Autism
The APPGA was set up in February 2000. Its role is to campaign in Parliament for greater awareness of autism and to lobby the Government for improved services for autistic people and their parents and carers. Its secretariat is provided by The National Autistic Society.
Parliament requires All-Party Groups to have an official objective. That is: "To raise awareness of issues affecting autistic people, their families and carers; to raise parliamentary awareness of autism; to campaign for changes to government policy to benefit autistic people and improve diagnosis or support for autistic people". This objective is reviewed every year.
Local MPs who are on the APPGA are:
Daniel Zeichner

Labour MP for Cambridge
Richard Bacon

Conservative MP for South Norfolk
---
Active Norfolk
We all know how important physical exercise and movement is for our Mental Health.
Active Norfolk offers a variety of resources, as well as both online and in-person classes with the aim of getting everyone active regardless of their disability.
For more information please visit the links below:
Getting active with a disability
---
Preparing for Christmas: autism resources
Source: National Autistic Society
The Christmas period, with lots of change, social interaction, expectations and demands to negotiate, can be a very exciting but often stressful time of the year for many autistic people.
The National Autistic Society have put together a brief list of useful resources that they hope may prove helpful in making this festive period as special and as stress-free as possible for those you work or care with.
---
Relaxed Christmas Events Across Norfolk
Below we have put together a list of relaxed Christmas events and performances from across Norfolk. For further details please contact the Venue/Organisation directly.
Sensitive Santa
Friday 10th & 17th December 4:50pm – 7:30 pm
Thetford Garden Centre
Purchase tickets in-store or call 01842 763267
(must pre-book)
For more events across Norfolk in December please click here
---
Realising Potential Programme
The Realising Potential Programme is being funded by the Premier League with the aim to get young people aged 11-25 back involved in sports and positive activities, following the Covid-19 pandemic. The programme will be split into two groups: Juniors (11-16) and Seniors (17-25).
In short, it will involve participants attending Multisports, Feel Good Thursday sessions (e.g. dance, yoga, fitness), a Wellbeing/Youth Club for Juniors, and Life Skills Workshops for Seniors. Seniors will undertake some Life Skills Qualifications and will also have the opportunity to carry out a work placement and gain some working/volunteering experience. We will also provide 1:1 sessions to check in on our participant's wellbeing as part of the programme.
Upcoming Session 31st January 2022 – 24th April 2022 and 9th May 2022 – 18th July 2022
For more information or to book please contact Ellie on 01603 984000 or ellie.dickinson@norwichcsf.org.uk
---
Would you like to work towards a better diagnosis pathway and support for those with Autism in Norfolk?
The Diagnosis and Support Working Group are looking for more members to join them. They are currently focusing on:
What should be on an appointment letter
Different support groups you would want to use that aren't currently avaliable
What should waiting areas look like
They have produced an easy read version of this invite for your information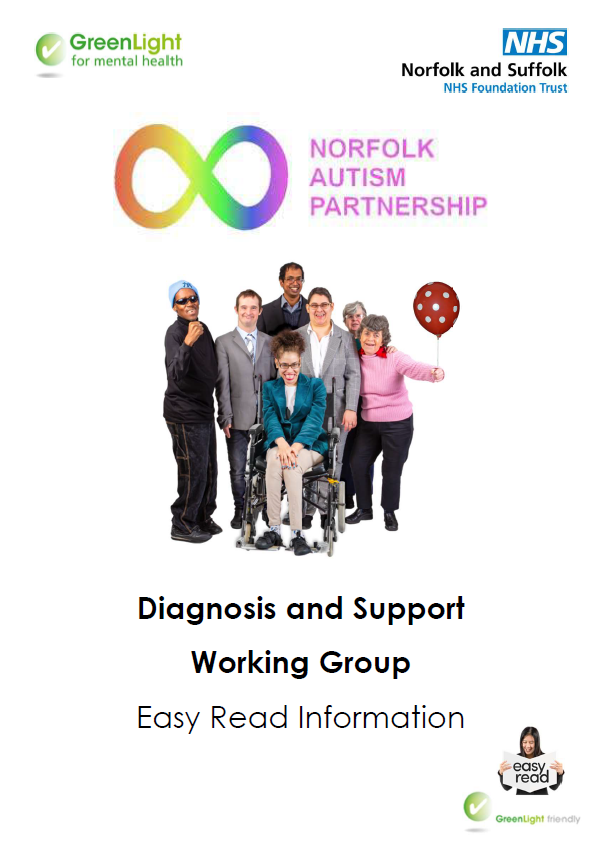 ---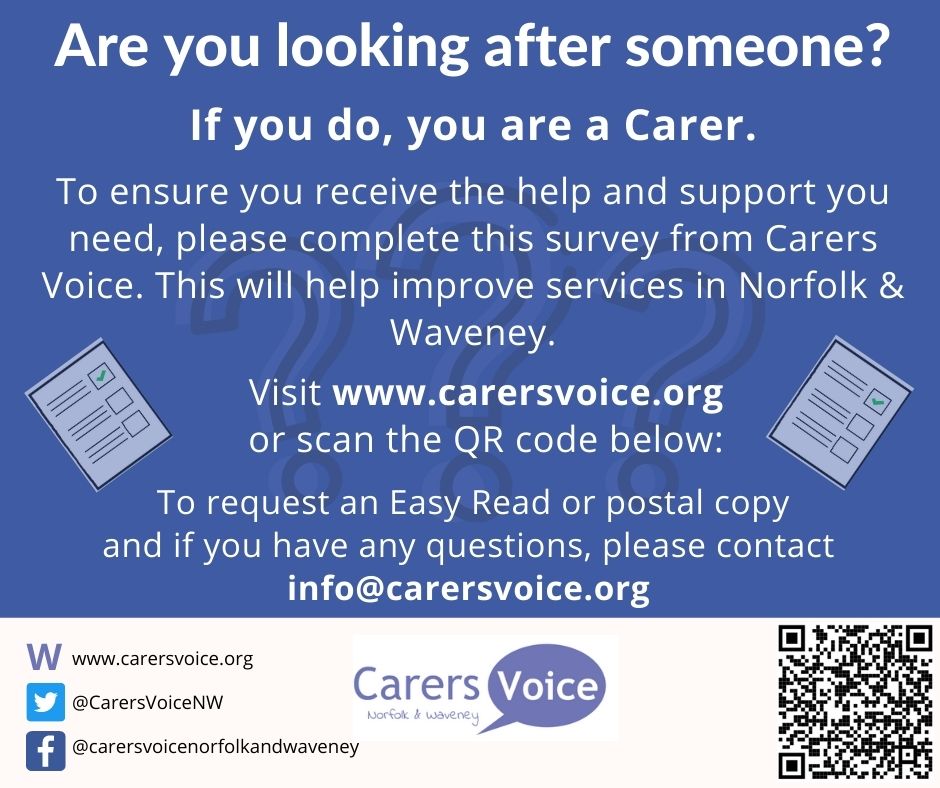 All Age Carers Strategy- Survey
'The independent charity Carers Voice Norfolk and Waveney have co-produced a survey with Carers as part of their work on the All Age Carers Strategy.
This will be used to improve services and ensure Carers receive the support they want and need.
To complete the survey, please visit: https://www.smartsurvey.co.uk/s/All-Age-Carers-Strategy/ To request an Easy Read or postal copy of the survey, please email info@carersvoice.org.
Click Here for an Easy Read Version of the Survey
---
Sign up to our membership to get our newsletter straight to your email inbox.
---